Some of the links in this article are "affiliate links", a link with a special tracking code. This means if you click on an affiliate link and purchase the item, I will receive an affiliate commission. The price of the item is the same whether it is an affiliate link or not. Regardless, we only recommend products or services we believe will add value to our readers. By using the affiliate links, you are helping support Edit Video Faster, and I genuinely appreciate your support.


This tutorial will teach you how to import an image sequence into After Effects.
An image sequence is a group of image files — .psd, .jpg, .png, .tif — that are numbered sequentially together in a folder. Each image acts as one frame of video. And what you are trying to do is import an image sequence into Adobe After Effects. Does that sound right to you? If so, great! Read on.
Getting an Image Sequence into After Effects Through the Import Window
Open After Effects (duh!) and then the Import window. You can do this by double-clicking inside a blank area of the Project Panel or by using the keyboard shortcut of Command+i if you're on a Mac or Control+i if you're on Windows.
The Import window should open up. Next navigate to the folder containing the image sequence that you want to import into After Effects. Select the very first file in the image sequence.
At the bottom of the Import window you should see some options such as Enable:, Format:, and Import As: with some checkboxes underneath it. If you don't see these, click on the Options button in the bottom-left corner. You should see them now.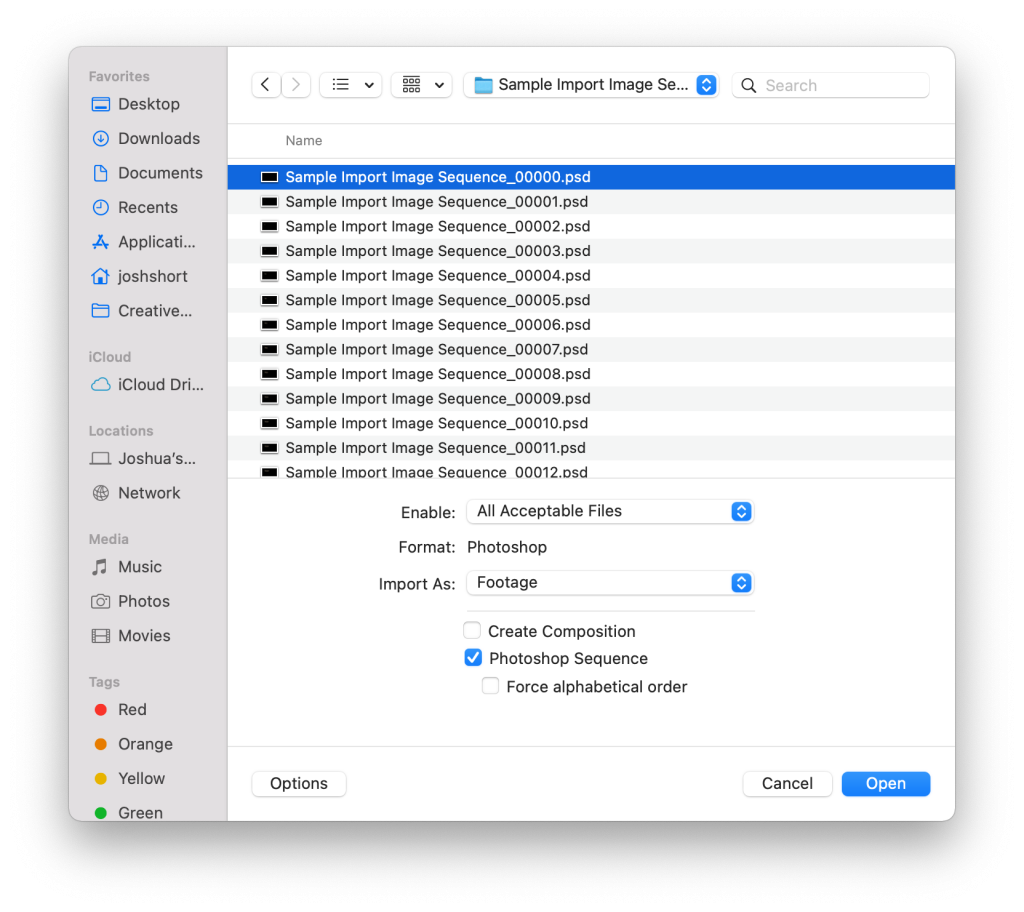 When you selected the first file in the image sequence, the [Image] Sequence checkbox should have went from grayed out to clickable. [Image] Sequence changes names based on the type of image sequence you are trying to import into After Effects.
Need help exporting image sequences? I got you covered in this quick tutorial.
In the screenshot above I'm working with a Photoshop Sequence. When I selected the first file, the checkbox went from Sequence not available to Photoshop Sequence. If this was a JPEG Sequence it would change to say ImporterJPEG Sequence. Something similar happens for TIFF Sequences and PNG Sequences.

🎧 Do you need stock music? Check out my friends at Soundstripe. They have the best selection, pricing, and licensing out there. For 10% off a subscription use the code "EVF" at checkout.
Next, click Open. The image sequence should now be imported.
If the image sequence was 60 files, the clip in After Effects will be 60 frames long. The icon in the Project Panel looks different than a typical clip icon. However it functions the same way a .MOV or .MP4 would or any other video file.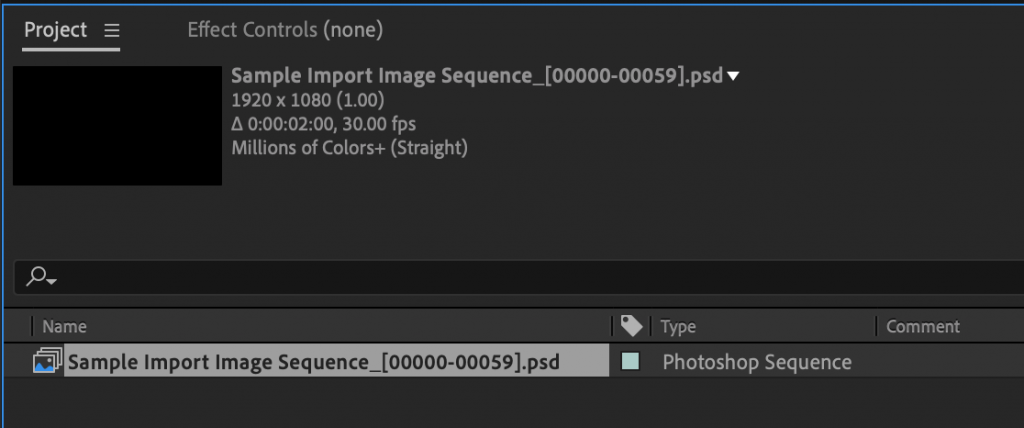 In the future, to stop After Effects from importing an image sequence, just uncheck that [Image Sequence] box in the options.
---
I sincerely hope that this tutorial helped you. If it did, please consider subscribing to my email newsletter. Do you have thoughts or questions about how to import an image sequence into After Effects? Leave them below in the comments!
– Josh