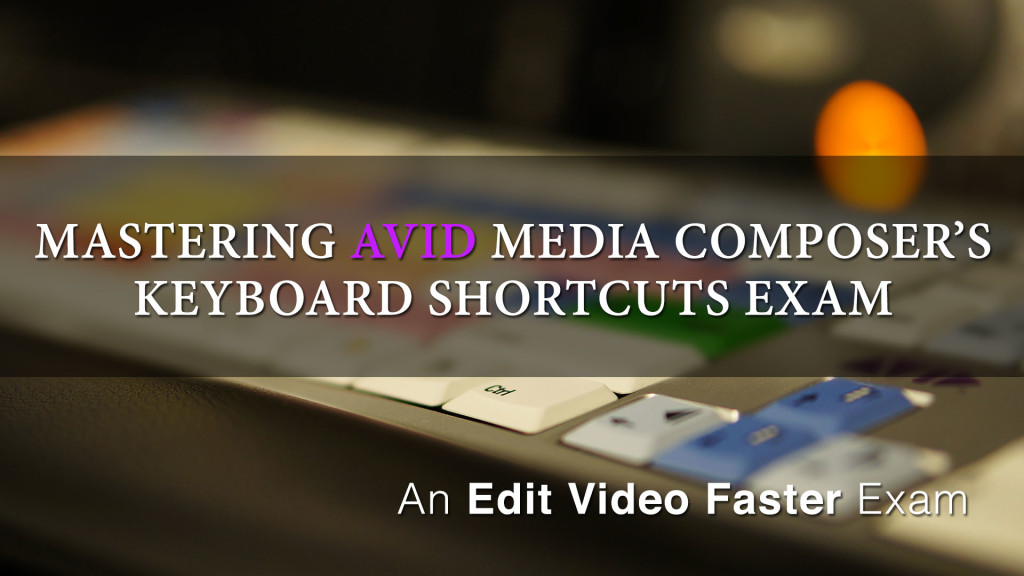 I want you to become a keyboard shortcut master. If you know the keyboard shortcuts and understand their functions, you'll be a faster video editor. That means you finish projects sooner, get paid faster and make your bosses and clients happier.
When I was learning Media Composer I wish I had a way to check my progress. I didn't. I didn't have a teacher. I couldn't afford a class. There were no lessons to follow. Lynda.com didn't exist and YouTube was unreliable. I just plugged away each day, screwing up and knocking clips out of sync, until I eventually got to a place where I believed, "I think I finally understand all this." Not knowing your skill level is rough, especially if you're new to an industry or software. You don't have to go through that pain and mystery like I did.
This is why I have created the Mastering Avid Media Composer's Keyboard Shortcuts Exam. The exam is 70 questions and takes place right here on EVF. If you've taken any of my free Media Composer quizzes the format will be familiar. Please take a crack at a quiz so you know what to expect for the exam.
The multiple-choice exam will cover everything in the Mastering Avid Media Composer's Keyboard Shortcuts lessons. To do well on the exam you need to know what the keyboard shortcuts are and how their associated functions work.
Before we go any further, please remember that I have no affiliation with Avid. I've written for their blog before but that is it. They do not compensate me and this exam is purely based on my experience with Media Composer. Cool?
The exam costs $5. Less than a burrito bowl at Chipotle. If you study the shortcuts, take the exam and feel that it wasn't what you expected and you now hate me and feel wronged, I'm happy to issue a refund. I'm positive that will not happen though.
Once you purchase the exam you'll download a document (an .rtf file which can open in Notepad, Word, etc.) with instructions that will direct you to the exam URL and the password to access it. Go to the page, enter the password, enter your first and last name and your email address. This email address is how I will follow-up with you about your results and is just for me to congratulate you. Take the exam. You'll get your results right away and I'll message you within a few days to chat about how you did. Once you get a great score you can relish in the fact that you're a keyboard shortcut master.
If you are not pleased with your score you are free to retake the exam as many times as you want within a week. Each week I change the password and if for some reason you are locked out or have any trouble getting in message me here and I'll get you in as soon as possible.
To purchase access to the exam click the "Buy Now" button below. Once again it is $5. You can use PayPal or a credit card. After that you will be prompted to download a document with instructions. Message me here (or email me – josh@editvideofaster.com) if you have any issues.

If you've been around here on EVF for a while you know that I'm completely honest with you. I believe this exam is a fantastic way to test your Media Composer chops. It's something that I wish I had years ago and that's why I've created it for you. Spending the equivalent of a venti vanilla latte in order to gain knowledge and confidence in your career is a no-brainer to me.
If you have any questions whatsoever email me or use my contact page. I'm happy to answer any questions you have about the exam.

Cheers,
Josh