I'm Josh and I'm here to make you a faster video editor. This is your place to edit video faster.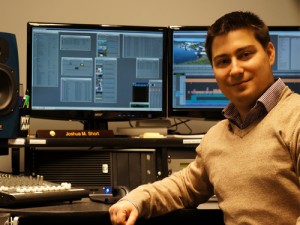 My last name is Short and I'm actually short too. Yep. I'm 5'3". Growing up short with a last name of Short puts a chip on your shoulder. How can you be great at something if you are constantly doubted? If you literally can't reach the top? Easy – do it faster than anyone else. Edit Video Faster is about how I became the fastest editor I can be and how you can do the same.
I want to share every bit of knowledge I have acquired on speeding up the video editing process. That comes in many forms. My favorite method is through keyboard shortcuts and quick timesaving tricks you probably didn't even know where in your NLEs. You'll find this site is riddled with these kind of tips and tutorials.
Being a video editor is like trying to do a 1,000 piece puzzle with 10,000 pieces but without seeing the box so you don't know what you're supposed to be making.
Edit Video Faster's Backstory
I'm only a decade into this whole editing career thing but along the way I have learned the hard way on how to deal with bad clients and even worse producers. I have gone up the ranks from intern to senior editor to running my own video department and team to running my own freelance business. If any of those topics interest you, stick around!
What You'll Learn Through
As far as software goes, this site is primarily focused on Avid Media Composer, After Effects, and Premiere Pro with other applications sprinkled in. These are the tools I use on a daily basis.
I might do things differently than other editors but I ask you to give me a shot and keep this website positive and fun. Share your best practices alongside mine and we can create a better culture in the professional video editor community.
Top Recommendations on EVF
If you're new to the site below are a couple posts I recommend starting with:
What's Next?
If you are struggling with anything specific reach out to me on the contact page.
Join me on Edit Video Faster and become a faster, better and more confident video editor. Go to this page to sign up to get notified about new articles, tutorials, news and special offers.
That's it. I hope you stick around and I'll see you soon!
— Josh