This tutorial is on how to create a blurry text transition in After Effects. Learn how to make this effect in under 3 minutes and in 2 steps.
Recapping Tutorial on How to Create a Blurry Text Transition in After Effects
In the video I started with a Comp open in After Effects where I'll make the blurry text transition. The composition contains a text layer and a pre-comp which contains the background.
Step 1: Add Gaussian Blur Effect
To create the blurry text background in After Effects start by selecting the text layer. Under the Effect menu find Blur & Sharpen then select Gaussian Blur. There's a ton of different blurs and they're all different so play around because you might like a different blur more than Gaussian. Alternatively instead of going to the Effect menu, you can find the Effects & Present Panel and start to type in Gaussian to find the effect.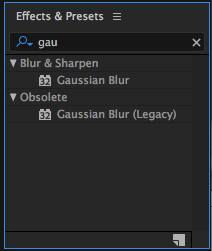 Next, make sure the time position indicator (the red bar in the timeline) is at the start of where you want the transition to begin. Now in the Effects Control Panel click the Stopwatch next to Blurriness. Then set the Blurriness to something like 100. Move further down the timeline then set the Blurriness to 0 (zero). Once you do that give it a RAM Preview.
Let's add a bit more to the effect.
Step 2: Adjust the Opacity
Jump back to the beginning of the Comp by hitting the Home key. Then move 10 frames in by hitting Shift + Page Down. Now hit the T key to bring up the text layer's Opacity parameter. Click on the Stopwatch next to Opacity. Go back to the first frame of the Comp by hitting the Home key again. Then change the Opacity to 0 (zero).
Do one last RAM Preview to see the final results of your blurry text transition in After Effects!
---
Additional Suggested Viewing: Create a Freeze Frame in After Effects
Did you enjoy this video? If so, I'd love to keep in touch. All you have to do is go here to stay in the loop on new blog posts, tutorials, and announcements.