Hey guys! This is really exciting. I'm launching my very first product on Edit Video Faster. It's a Bin for Avid Media Composer that contains over 50 preset transitions that can be used as Quick Transitions (the \ key).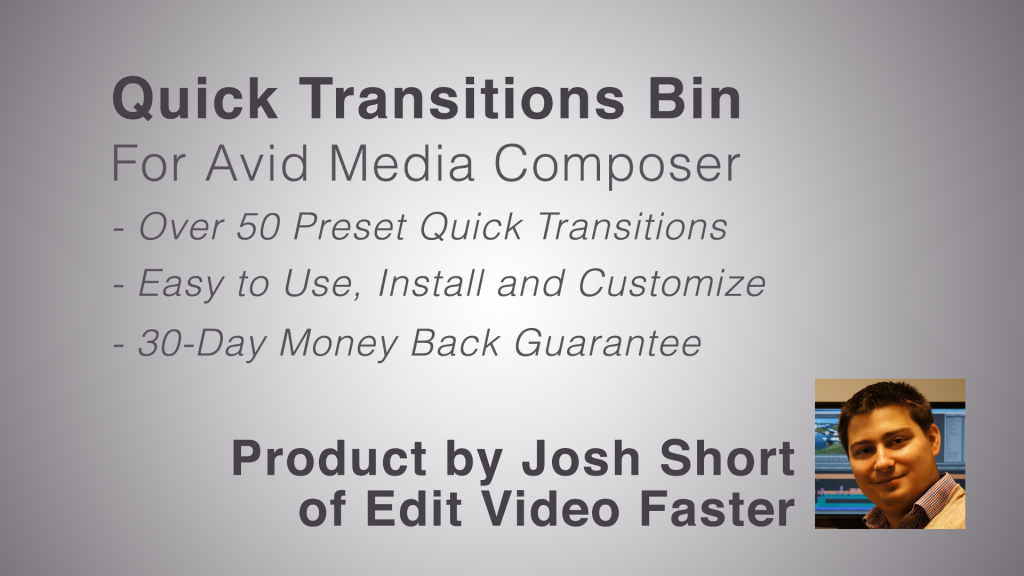 What you need to know:
By clicking the image above or the Buy Now button below, you'll be taken to a PayPal page.
The Bin costs $5. This is a limited time offer. The price will go up and this Bin will only be available for a limited time.
It will jumpstart you creating Quick Transitions by giving you over 50 preset ones.
No plug-ins are required. All transitions are from Avid Media Composer.
This product does 

not

work with Media Composer | First.
After downloading the .avb file, remove the underscore between Quick_Transitions.abv. Otherwise this will not work.
Place this file into a new or existing project on the Finder/My Computer level (before opening Avid Media Composer).
Open up your project, the Quick Transitions Bin and a Sequence. Select your tracks you want to apply a Quick Transition to and find a transition point. Hit the \ key. Under the "Add" dropdown you'll now see over 50 presets beneath Dissolve, Film Dissolve, Film Fade and the rest of the standard Quick Transitions.
Once you apply a transition you can use the Effect Editor to tweak as needed. Drag the Effect Icon to the Quick Transition Bin to save your own customized transition.
Check out the tutorial below on how to use Quick Transitions:
I've tested it out here in the US and all the way in the UK but be kind if you encounter any issues. I'll work my hardest to get them resolved as speedy as possible and if you aren't happy for whatever reason there's a 30-day money back guarantee. If you have any questions at any time reach out to me either through the Contact Page or on Twitter.
Now click the Buy Now button below and start editing video faster with over 50 new preset Quick Transitions!