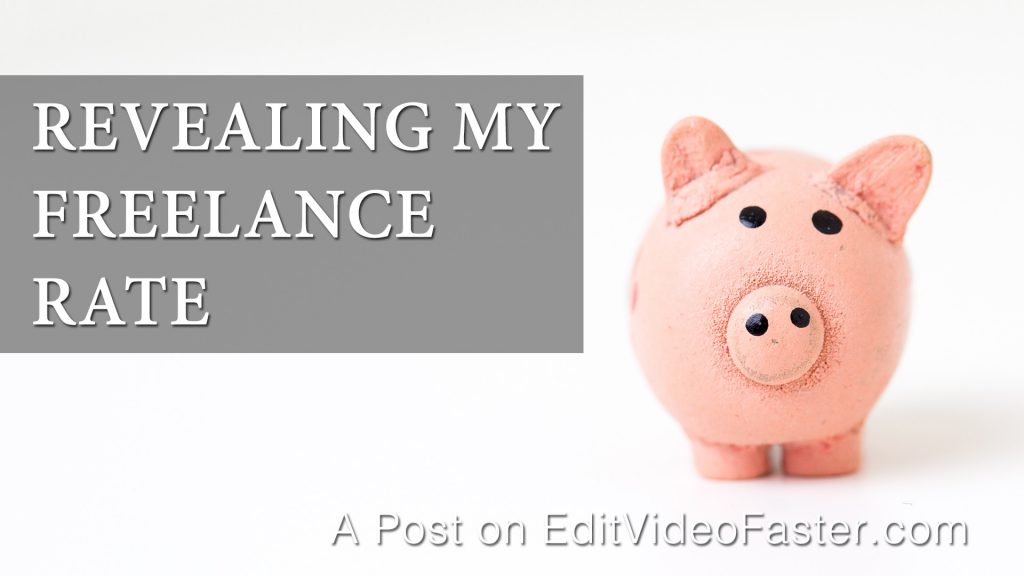 Let's cut right to the chase: My hourly freelance video editor rate is $65. $65 an hour buys you whatever professional services I can provide — video editing, producing, project managing, coaching, QCing, media managing, voice-over artisting, sitting in meetings, etc.
If that's all you wanted to know you can stop reading. But if you want to know why, the history behind it and why that number fluctuates I'll try my best to explain it below.
When I first started freelancing I was charging $20/hour. That was in 2009 and it felt like SO MUCH MONEY. It kinda is when you're 22 years old post-grad paying $550/month in rent for some sh**** room in a duplex with your college buddies.
How did I land on that number? I have no idea. $25 felt like too much and my first client said yes to $20/hour.
Over the years as the confidence in my skills grew so did that number. $20 became $25. $25 became $30. Then it stayed there for awhile. Freelance at that point was only part time and was extra money on top of my salary (even though that salary wasn't much). I felt good about what I was charging and so did my clients because they were getting a bargain and still are.
Once I took the leap into freelancing I had to bring that number up. So I bumped it to a range of $35-$55/hour. I'd start by asking for $55/hour but knew I could be negotiated down to $35 or $40 for most projects. If they said yes to $55/hour then sweet! Otherwise I was still happy with the haul I was taking home.
Then once I had been in the #freelancelife for a few months I realized I needed to raise that number. The extra taxes you pay as a freelancer are killer. There is no way I could have charged that much and maintained my lifestyle. Also there is absolutely no way I could have done full-time freelancing if I wasn't married. Seriously all you single people freelancing paying for your own health care are so courageous. Hats off to you because I do not have the balls to do that.
BTW here's a conversation Nick and I had on getting charging for jobs and getting paid
Where was I… Oh yeah. Raising my rates again.
I realized I needed to raise my rate so I did. $65/hour. And at that point my range jumped to $45-$65. However I'd be hard-pressed to say yes to anything below $55. I made up my mind and had to stick to that range. Even if you need the money you can still say no and ultimately make more. More times than not my freelance client was willing to come up to at least $50. That $50 fit in my range so I'd take those jobs.
Plot twist!
Several months ago I ended up taking a full-time job. But I had all this freelance work still coming in. In order to justify taking more work and jamming it into an already packed schedule (thanks to this site, Command+Edit, trying to have a somewhat normal social life, etc.) I had to raise my rates again. Now my rate is a firm $65/hour, no matter what. I will not take any less unless there's a crazy reason like it's for a non-profit and I'm 110% behind their cause and feel the urge to help. Otherwise…$65/hour. For everything.
If I can get more, of course I'm going to try. But 99% of the time all I'm looking for is $65/hour. That's the sweet spot. That'll get me to forsake happy hours and Netflix and podcasting so I can bring in a little extra coin.
My freelancing situation is more than likely different from yours. My rate works for me and it took a very long time to figure out and become comfortable talking about. In all honestly I probably should and could charge more. I know in the next year or so I'll raise my rates again because my time will become more valuable. And in a year or so I'll raise it again. Put this cycle on repeat until I retire.
Talking about your freelance video editor rate is something we editors do not do enough. That's why I was only charging $20 an hour in the beginning. I didn't know what I could charge. I had no one to talk to about this. My advice is charge as much as you comfortably can. Negotiating what we get paid is the most difficult part of our job but literally it is the #1 thing that matters because it is our job.
If you want to share your freelance video editor rate and start more conversation around rates please do so in the comments below.
If you found this article helpful could you do me a favor and share it with an editor or freelancer who could use it? Thanks.
Cheers,
Josh
PS: If you're new around here and want to be notified whenever I come out with a new post / podcast / video / newsletter / etc. you can go here to signup. No spam. Ever. Just the good stuff 👊🏼