Some of the links in this article are "affiliate links", a link with a special tracking code. This means if you click on an affiliate link and purchase the item, I will receive an affiliate commission. The price of the item is the same whether it is an affiliate link or not. Regardless, we only recommend products or services we believe will add value to our readers. By using the affiliate links, you are helping support Edit Video Faster, and I genuinely appreciate your support.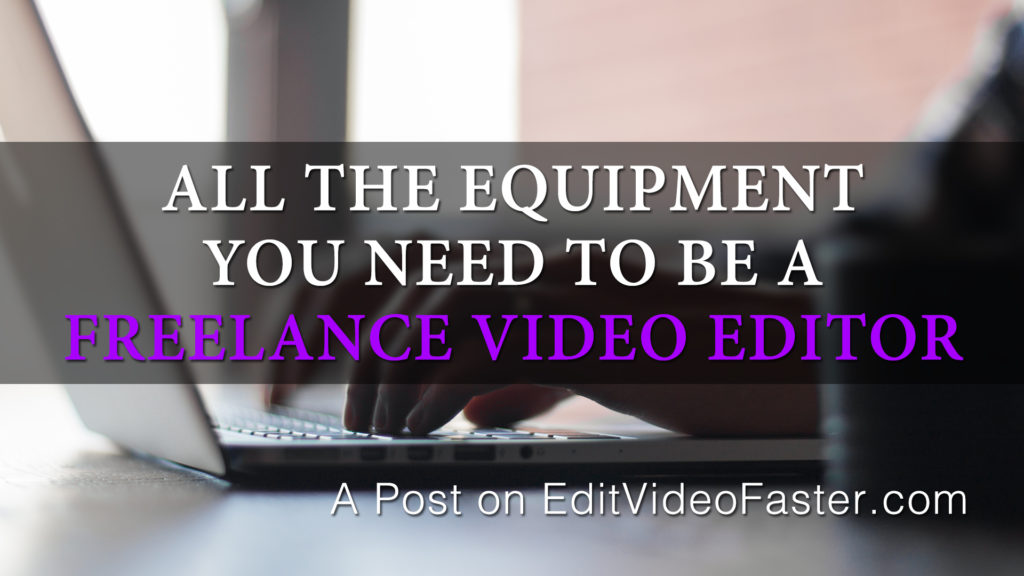 Every freelancer video editor needs equipment. This article walks you through all the equipment I use as a freelance video editor. Whether you work in someone else's edit bay or your own in your basement or a combination of the two, like me, you'll need a handful of items to run your business.
You don't need a $25,000 edit bay to have a freelance video editing business anymore. You need reliable equipment that fits your needs.
This post is about equipment that I have and use on a daily basis. I'll tell you what I think are the best hard drives for video editing, my favorite head phones, what I've bought that grows dust and more. If you'd like to see a post on the software and services I use let me know in the comments! Alright, let's jump right in.
Note: Some links in this article are affiliate links. All that means is that if you were to purchase something from the site after clicking the link, like Amazon, I would get a small commission. It's no extra cost to you and maybe one day from it I'll be able to buy a 6-pack of Sierra Nevada Pale Ale or Peyton some pumpkin Fruitables.
The Essential Equipment to be a Freelance Video Editor
iMac
Cost: $1,300
I purchased, or rather my wife purchased, my iMac back in 2012. It was a wedding present from her and fast-forwarding to 2020 it still runs fantastic. I wouldn't edit a 4K feature on it but for what I do most days it gets the job done like a champ.
Here are some specs:
Size: 21.5"
Processor: 2.9GHz Intel Core i5
Memory: 16 GB 1600 MHz DDR3
Graphics: NVIDIA GeForce GT 650M 512 MB
Accessories: Magic Mouse and Wired Keyboard with Number Pad (you gotta have the number pad!) If you find them useful, an editor's keyboard like this one can be super helpful.
Link to a similar updated version of my iMac on Apple.com
Fantom G Force 2TB USB 3.0 External Hard Drive Black
Cost: $90
I love these hard drives. I firmly believe they are the best hard drives for video editing. There are cheaper ones, faster ones, and larger ones. But this one, this exact one, has never failed me. Never, ever, ever. I'm not even afraid of jinxing it. For three years the same hard drive, now retired, traveled with me in my backpack into DC. My commute consisted of a jam-packed commuter bus with my backpack jammed in front of my feet at my seat then a mile walk to work through the city through cold, rain, snow, heat, whatever. This hard drive is an essential piece of equipment for me to be a freelance video editor.
The only downside is that it needs a power source. That's kinda a drag if you want to edit from anywhere but I've never had an issue. I highly recommend always traveling with them in the box they come in with the styrofoam. They hardly move when they are in it but with any hard drive if you drop it, spill your coffee on it or just generally treat it poorly it will fail you.
Link on Fantom G Force Hard Drive on Amazon
Sennheiser HD6 Mix Headphones
Cost: $179
These headphones changed my life. After going through half a dozen different headphones the past few years, I've landed on these. I'm nearly a year into using them and can't imagine editing without 'em. I take them to every single gig and to Starbucks. I take them whenever I travel. They are a 100/100.
These are not "noise cancelling". However they are noise reducing. The thing is…I get startled at least 3x a day because I cannot hear a gosh darn thing when they are on.
One of my favorite features is that you can choose which side to plug the wire into. This helps me because at one of my recurring gigs the mixer sits on the left and at home my headphones are plugged in to my right. It's such a small thing but not having to fuss with a wire in front of me all day long saves me so many seconds that continue to add up each day.
Link to them on Sennheiser (they're $179 here)
Link to them on Amazon (they're $150 here)
iPhone
How else are you supposed to spend render breaks when everything is fire-walled on the computer you're working on?
The Non-Essential Equipment to be a Freelance Video Editor
Sony NEX6 Camera
Cost: ~$500
You don't need a camera to be a video editor. This camera would never cut it on a heavy duty shoot but for vlogging, quick interviews and small photo shoots it gets the job done for an affordable price.
I don't believe this camera is made any longer but Sony has comparable mirrorless cameras.
AmazonBasics 60-Inch Lightweight Tripod with Bag
Cost: $23.49!!
A few months ago my buddy asked me to take some "professional" photos. I don't claim to be a professional photographer or even an amateur one. But he was in a pinch and knew I had a decent camera (see above!) so I told him sure. However I didn't have a tripod yet for the camera. I jumped on Amazon, Primed it to me and the next day had this tripod. It's decent. I have the worst time fitting it back into its bag and it's a little cumbersome to use but you can't beat the price or the weight.
Since it is so lightweight you need to be very careful not to leave your camera resting on the tripod while you walk away. This tripod can tip easily if anyone bumps it. But again for the price are you going to complain?
Movo PM10 Deluxe Smartphone Lav Mic
Cost: $25
This is a tiny clip-on lav that plugs into your iPhone or other smartphone. On an iPhone you use the Voice Memos app that comes pre-installed. Plug it in and hit record. You can also use this on a computer. It's super handy. I've recorded podcasts, interviews, vlogs, etc. with this. It'll never replace a "true" lav but it gets the job done for small projects.
You cannot adjust the audio levels so do a test or two before hitting record. You may have to move it closer or further from the speaker's mouth. Also make sure to unplug the mic when you want to listen back to the recording. I did this like the first six times I used it and kept forgetting that the mic was plugged into the headphone jack so the phone or computer wouldn't playback through the speakers.
Link to Lav on Movo (here it's $25)
Link to it on Amazon (here it's $15) (BTW apparently there's a double mic version of this! I might have to pick one up…)
CAD U37 USB Studio Condenser Mic
Cost: $39
This is the mic I use for Command+Edit and the EVF tutorials and vlogs. Just being real…it's average-to-decent quality. There are much better quality USB mics out there but again, like most of my equipment, it gets the job done and that's all I need. I recommend it if you are in the <$50 range. Just make sure you put a piece of graffers tape over the blue light that never turns off while it's plugged in!
Link to CAD U37 USB Mic on Amazon
Wacom Bamboo Pen and Tablet
Cost: ~$100?
I never use this. Maybe one day I will. Some editors like my buddy Nick swears by it. You might swear by it. I cannot get the hang of it. I don't believe Wacom makes this tablet anymore but from what I hear Wacom is pretty much the top choice if you're in the market for one.
This product gets 4.4 stars on Amazon. I also got it on Black Friday for like $45 a few years ago. It's a tablet. It gathers dust at my desk. But if you're curious if I have one, this is it. In my opinion this is one piece of equipment you don't need to be a freelance video editor even though a lot of people love it.
Link to Wacom Bamboo on Amazon
Link to other tablets by Wacom
Moleskine and Mechanical Pencil
Cost: ~$7
Maybe I write too much but I always have a Moleskine notebook and a mechanical pencil on me. I use it for ideas, blog posts, editing notes, client feedback, etc. And it doesn't look like I'm playing on my phone while I'm in meetings.
What Equipment in your Freelance edit bay?
I'm pretty sure that's literally every bit of equipment I use as a freelance video editor. It's not always the fanciest of equipment. What's important though is that it is all reliable, convenient and affordable.
You're turn. Anything on your equipment list that's different? Leave your thoughts below!
If you know an editor that would like this post could you share it with them? I love the community we're building here and want to keep the momentum going!
Hey, if you're new around here and want to stick around click here to signup to get notified about new posts and get my weekly newsletter that gives tips, resources, articles, videos and more to make you the best editor you can be.