Some of the links in this article are "affiliate links", a link with a special tracking code. This means if you click on an affiliate link and purchase the item, I will receive an affiliate commission. The price of the item is the same whether it is an affiliate link or not. Regardless, we only recommend products or services we believe will add value to our readers. By using the affiliate links, you are helping support Edit Video Faster, and I genuinely appreciate your support.


This tutorial is on how to export a still frame out of After Effects. In it you'll learn how to take a frame in After Effects and export a JPEG (.jpg), PNG (.png), PSD (.psd), or TIFF (.tif). And you will learn how to export a still with or without an alpha channel as well. Here's how:
Save Frame As
To begin, open the Composition with the frame you want to export from After Effects and move your time position indicator to that exact spot in the timeline. Under the Composition menu, find Save Frame As and then select File…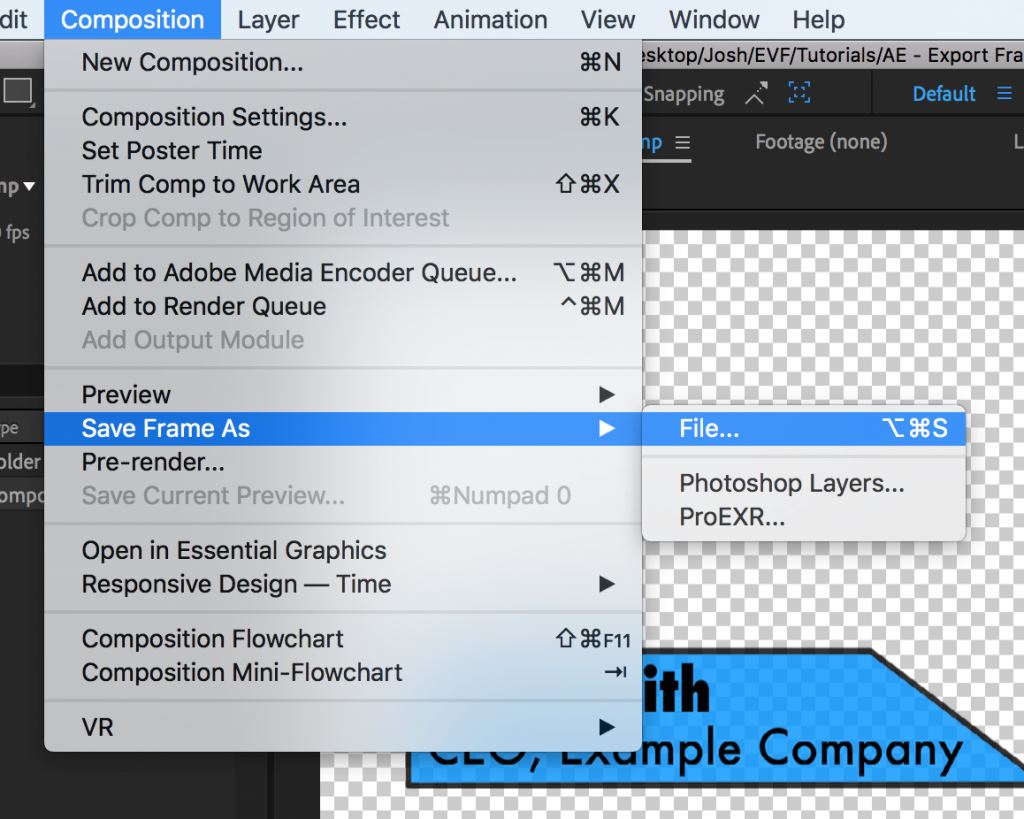 The Render Queue should pop up as a result of this. If not, go under the Window menu and select Render Queue. In the Render Queue find Output Module and click Photoshop (or whatever your default setting is).

Output Module Settings for Exporting a Frame from After Effects
Doing this will open the Output Module Settings. In the Output Module Settings find the Format dropdown. Select the type of file you want to create.
Selecting Photoshop Sequence will give you a .psd file. JPEG Sequence will give you a .jpg file. PNG Sequence will give you a .png file. And TIFF Sequence will give you a .tif file. Please note, even though this says "Sequence" you will only be exporting one (1) frame.
Enjoying this tutorial? Check out this quick tutorial on using After Effect's little-used Increment and Save feature.
For PSDs, TIFFs, and PNGs you can export the file with an alpha channel. An alpha channel keeps the information about what is supposed to be transparent. You cannot do this with a JPEG file. Let me repeat. A JPEG file (.jpg or .jpeg) does not contain an alpha channel. We clear?
Back to PSDs, TIFFs, and PNGs… if you want an alpha channel on them, from the Channels dropdown you must select RGB + Alpha. If you don't need an alpha channel, just leave this set to RBG. Click OK to close the Output Module Settings.
Output To Settings for Exporting a Frame from After Effects
Now back in the Render Queue, click the file name that's next to Output To.
Music used in this video, "San Juan Sunshine" by Mikey Geiger, was purchased and licensed through my friends at Soundstripe. For 10% off a subscription use the code "EVF" at checkout. 🎧 (affiliate link)
Name the file to what you want it to be and set the destination. Click Save. Lastly in the Render Queue click the Render button to export the frame from After Effects. All done!
Did you enjoy this tutorial on how to export a frame in After Effects? If so, I'd love to keep in touch. All you have to do is go here to stay in the loop on new blog posts, tutorials, and announcements.
---
– Josh