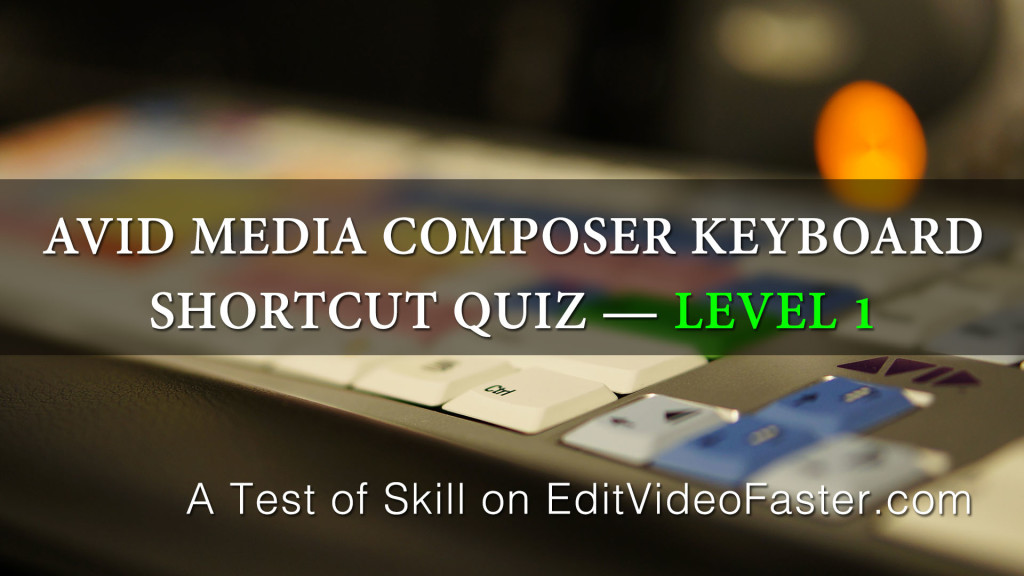 Hey! If you remember several weeks ago I came out with a free keyboard shortcut quiz for Avid Media Composer. Well, many of you downloaded it and I got some really good feedback so I decided to take it to the next level and create a bigger and better free Avid Media Composer keyboard shortcut quiz!
Get the Free Avid Media COmposer Quiz
I'm calling this one Avid Media Composer Keyboard Shortcut Quiz — Level 1. Yes, Level 1! That means I want to and will make more and tougher ones. This requires two three things from you.
Quiz Instructions
First, you take this quiz! You were going to already so this one is easy.
Second, leave me a comment here or through the contact page to let me know what you thought. Too easy? Too tough? Difficult to use? (BTW, for the life of me I cannot change that gray button with white text. I'm trying desperately to fix it but am not going to keep me from releasing this quiz any longer!)
And third, you stick around and read my message at the end of the quiz.
Alright! That's it! I kept you long enough. The link below will take you to the quiz.
Avid Media Composer Keyboard Shortcut Quiz — Level 1
PS: When you go to the quiz you'll be asked to enter your name and email. Don't worry, that's just for me and won't be shared! I may reach out to you in the future if I come out with other items like this one that might be of interest to you though. Good luck on the quiz!!
Once again, you can get to the quiz through the link below:
Avid Media Composer Keyboard Shortcut Quiz — Level 1
Did you enjoy this article? If so, I'd love to keep in touch. All you have to do is go here to stay in the loop on new blog posts, tutorials, and announcements.
---
– Josh