Some of the links in this article are "affiliate links", a link with a special tracking code. This means if you click on an affiliate link and purchase the item, I will receive an affiliate commission. The price of the item is the same whether it is an affiliate link or not. Regardless, we only recommend products or services we believe will add value to our readers. By using the affiliate links, you are helping support Edit Video Faster, and I genuinely appreciate your support.


This tutorial teaches you how to import audio files into Premiere Pro. It can be done with a couple keystrokes and clicks. Let's learn how!
Accessing and Using the Premiere Pro Import Window
"Importing" is the act of bringing files into Premiere Pro. You do this through the Import window.
The Import window can be opened a number of ways. You can:
Double-click an empty area of the Project panel (this is m usual go-to move)
If you have a Bin open as it's own panel double-click an empty area of it
Go to the File menu and choose Import
Use the keyboard shortcut Command+i (Mac) or Control+i (Windows)
BTW, if you aren't really familiar with the term "Importing" check out my free Everyday Video Editing Terms Guide.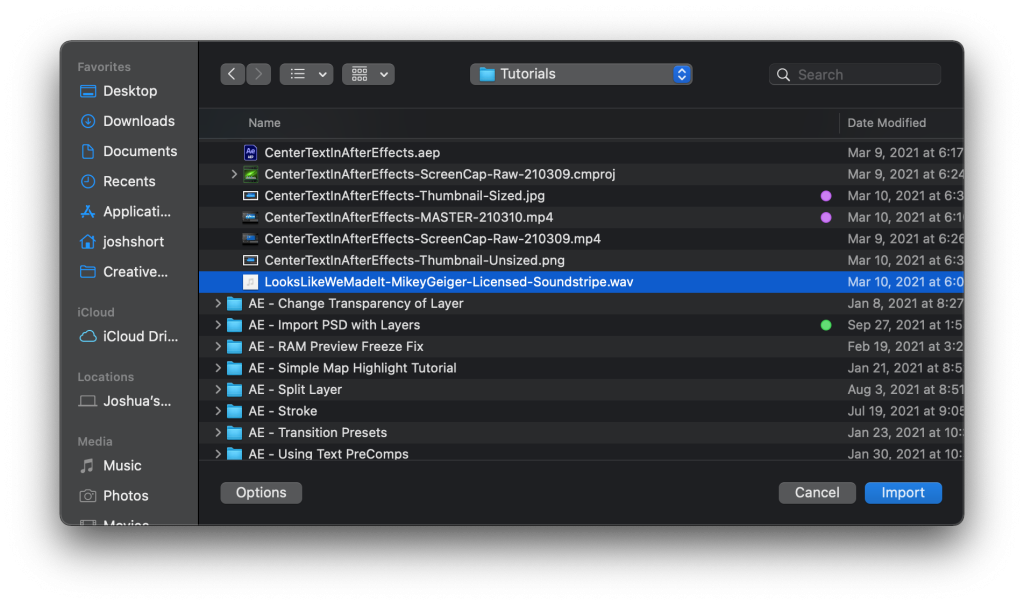 Now in the Import window, navigate to the audio file you want to import into Premiere Pro. If you want to import multiple clips you can Command/Control+click or Shift+click them to select more than one file. Then click Import.
Alternatively instead of using the Import window you can select the file from Finder (Mac) or Computer (Windows) and drag and drop it into the Project panel. But I prefer and recommend using the Import window.
After clicking Import you'll probably see a box pop up for a split second (see image below). But then after it goes away you've now imported the audio file(s)!
Are you need to video editing? If so, get some of my free video editing guides!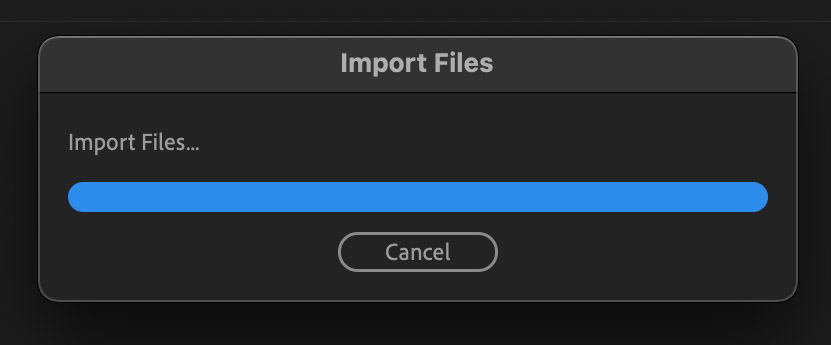 After the Audio is Imported in PPro
Move the audio file you just imported into the correct bin. Then either double-click it to open it up in the Source monitor to select In and Out Points or drag it into your timeline to get it into your sequence.
Here's a list of all the supported file formats. MP3s (.mp3) and WAV (.wav) files are the most standard file formats for audio tracks that you'll probably be working with — both are completely fine to import into Premiere Pro.
---
If you've now gone through this tutorial and you still need help, please leave a comment and I'll do what I can to help troubleshoot it. But if you can now import audio into Premiere Pro, I hope you stick around and check out some of the other Premiere Pro tutorials on my website or consider signing up to get notified about new blog posts and happenings around EVF.
– Josh
🎧 Do you need stock music? Check out my friends at Soundstripe. They have the best selection, pricing, and licensing out there. For 10% off a subscription use the code "EVF" at checkout.