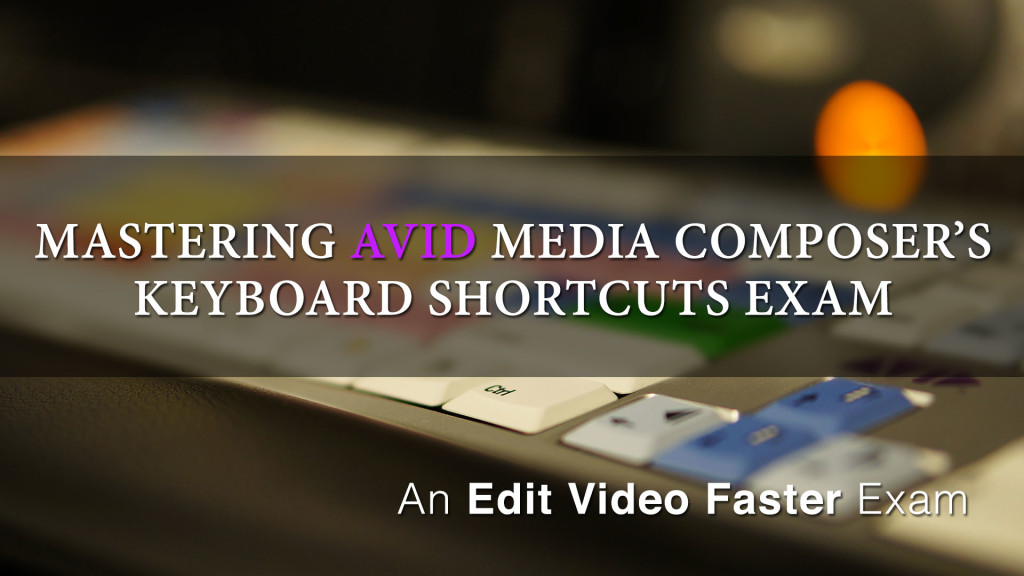 Please note the pre-sale is now over. Please visit this page for more information on the exam.
If you haven't noticed, I've been creating a bunch of lessons about Media Composer's keyboard shortcuts and their related functions. This is because I want you to become a keyboard shortcut master. If you know the keyboard shortcuts and understand their functions, you'll be a faster video editor. That means you finish projects sooner, get paid faster and make your bosses and clients happier.
When I was learning Media Composer I wish I had a way to check my progress. I didn't. I didn't have a teacher. I couldn't afford a class. There were no lessons to follow. I just plugged away each day, screwing up and knocking clips out of sync, until I eventually got to a place where I believed, "I think I finally understand all this." Not knowing your skill level is rough, especially if you're new to an industry or software. You don't have to go through that pain and mystery like I did.
I'm in the process of creating an exam to solve this very issue. It will be a simple, convenient and affordable way to test your abilities with Media Composer's keyboard shortcuts.
The exam will be launching February 13th (my birthday!). It will take place here on EVF. If you've taken any of my free Media Composer quizzes the format will be familiar. Please take a crack at a quiz so you know what to expect for the exam.
The multiple-choice exam will cover everything in the Mastering Avid Media Composer's Keyboard Shortcuts lessons. There will be two more lessons released before February 13th. To do well on the exam you need to know what the keyboard shortcuts are and how their associated functions work.
Before we go any further, please remember that I have no affiliation with Avid. I've written for their blog before but that is it. They do not compensate me and this exam is purely based on my experience with Media Composer. Cool?
Your results, if you choose, will be displayed on the leaderboard. On the leaderboard you'll have the opportunity to link to your website, demo reel or piece of work you've done. The leaderboard will be in order by score then by date. The first person that gets 70 out of 70 will be at the top of the leaderboard permanently. So that means if you want to be near the top you better 1) study the lessons and 2) take the exam before others do.
The exam will cost $35. I want anyone attempting the exam to take it seriously. I want you to study and master the keyboard shortcuts. If you study the shortcuts, take the exam and feel that it wasn't what you expected and you now hate me and feel wronged, I'm happy to issue a refund. I'm positive that will not happen though.
Once you purchase the exam you'll download a document with instructions that will direct you to the exam and the password to access it. Go to the page, enter the password, enter your first and last name and your email address. This email address is how I will contact you about the leaderboard. Take the exam. Get a great score because you studied and relish in the fact that you're a keyboard shortcut master.
If you are not pleased with your score you have one week to retake the exam.
A few days following your completion of the exam I will email you to get the link to your website, demo reel or piece of work you want associated with your name on the leaderboard. If you do not want to be on the leaderboard you can opt out; just let me know! I will be emailing you from josh@editvideofaster.com.
Okay, one last thing.
The exam will go live on Saturday February 13th. It will be $35. I am doing a special introductory offer of $15 if you purchase before Friday January 22nd, 2016 11:59 EST. The price will never be this low again.
To get this deal click the "Buy Now" button below. You can use PayPal or a credit card. After that you will be prompted to download a document with instructions. Please email me at josh@editvideofaster.com (this is reiterated in the document) saying you're part of the pre-sale for the exam! I should get your email address when you make the purchase but I want to make 100% sure I have it to send you access to the exam once it is launched. Once it's launched I'll send you the link to the exam with your password.
If you've been around here on EVF for a while you know that I'm completely honest with you. I believe this exam is a fantastic way to test your Media Composer chops. It's something that I wish I had years ago and that's why I've created it for you.
If you have any questions whatsoever email me or use my contact page. But remember you have until January 22nd, 2016 to get the exam for only $15, more than 55% off.
Please note the pre-sale is now over. Please visit this page for more information on the exam.
Cheers,
Josh