This tutorial teaches you what to do when you have missing tracks (video or audio) when editing a clip into Premiere Pro. You edit a clip into your timeline but the video or audio doesn't appear. What now? You need to check the clip's patching on your tracks. Here's how:
Proper Patching To Avoid Missing Tracks for Clips in Premiere Pro
Patching. This is what is called when you target the specific tracks on a clip to the tracks on the timeline. Take a look at this image: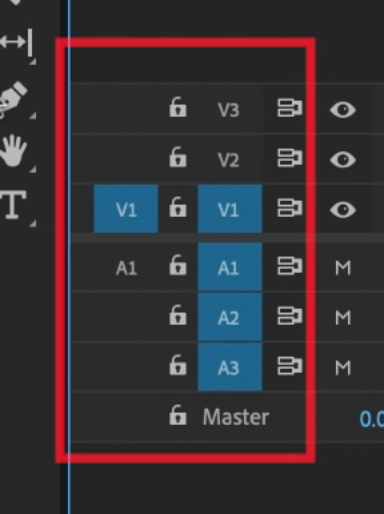 The clip that's loaded in the Source Monitor has one video track (V1) and one audio track (A1). These are the V1 and A1 on the left side. On the right side there is V1, V2, V3, A1, A2, and A3. These are the tracks of the timeline. You can always add more tracks when needed.
Patching is the act of deciding where the V1 and A1 from the Source side patch to the Record side (the Timeline). This is the track they will be edited onto when you perform your edit (i.e. Insert Edit or Overwrite Edit).
Now there's one more piece to this puzzle and I'm willing to bet if you're reading this post than for 95% of you this is the problem. You need to make sure the track on the Source side is turned on.
In the example above, V1 is activated but A1 is deactivated (in other words, turned on and turned on). To activate or turn on a track so that the missing track won't be missing anymore, click the track once in Premiere Pro.
Are you need to video editing? If so, get some of my free video editing guides!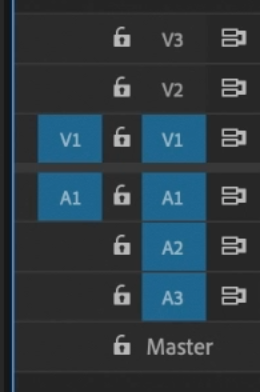 In the image directly above, V1 and A1 on the Source side are now both active. When you do your Insert Edit or Overwrite Edit, both tracks will now show up for the clip in the timeline.
---
If you've now gone through this tutorial and you still need help, please leave a comment and I'll do what I can to help troubleshoot it. But if you have now solved missing tracks when editing a clip into your timeline in Premiere Pro, I hope you stick around and check out some of the other Premiere Pro tutorials on my website or consider signing up to get notified about new blog posts and happenings around EVF.
– Josh
🎧 Do you need stock music? Check out my friends at Soundstripe. They have the best selection, pricing, and licensing out there. For 10% off a subscription use the code "EVF" at checkout.