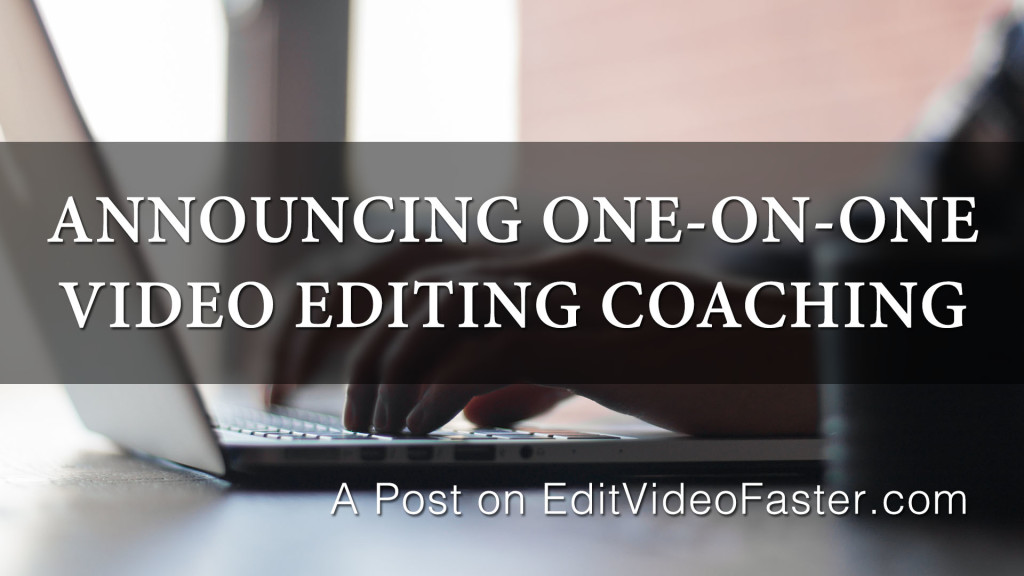 I want to make you a better video editor. That's what I've been doing through my site, YouTube channel and other avenues for the past year. Pretty much this entire time I've been helping a faceless audience. I've been guessing at what you want to learn and hoping I'm using something relatable to be able to teach you. I know it's working for a lot of you (I love the thank you emails I get!). However a lot of the time I still don't know what you are struggling with. You, the one reading my words right now, I want to help you. That's why I want to be your coach.
Recently I've had a huge problem. I have had several requests come in for complex custom tutorials that can't be reused for everyone. I want to help these individuals out but I have such limited time after my 9-5, creating content for this site, walking Peyton, another new secret project I'm announcing soon (!!!) and trying to have something close to a social life. I have two options. I can:
Spend several hours creating these custom tutorials, which results in lost time either with my family or creating content for this site or
I can keep my family time and EVF content creation time but not be able to help these individuals in the way that they want/need help since email and screen shots aren't enough sometimes.
Neither option works for me.
I cannot justify helping one individual person at the expense of not being able to create content for this site (and thus helping many). It isn't fair to everyone else…that means you! My family time will always come first and with my limited free time I need some grounds for cutting out on one of them. That justification comes in the form of private, one-on-one premium coaching.
I've talked before about my stances on making money through this site and am not ashamed that money is a factor is determining my actions. I hope you use your skills in the same ways (and if you'd like I can help you do this in our sessions).
Money is key for two reasons. First, I can tell my wife that I can put away X dollars towards our trip to France this winter and she won't be upset I'm ditching her for someone from the Internet. The second reason is that you and me will both take the coaching sessions seriously. I won't slap together some tutorial without audio and send it to you. And you will pay attention to what you are learning. I will be able to screen share with you and walk you through each step so you completely grasp whatever we're doing.
Our sessions can be about anything. Ideally I imagine you want to learn about becoming a better or quicker or creative or confident video editor. Or you might want to learn about networking, landing gigs, how to market yourself, etc. We can cover any of those topics. We can cover software like Avid Media Composer, After Effects, Photoshop and more. We can go through concepts like compression, editing workflow, tracking revisions, etc.
So how does this whole coaching thing work?
Ah! That's a fantastic question. If you are interested in receiving private, one-on-one coaching from me, this is the process:
Fill out the contact form below or on the Coach Me page (coming soon) to tell me you are interested in private coaching.
I'll ask you a few questions via email like what you are trying to learn, what your video editing experience level is, …those type of things.
If it seems like I would be a good fit to coach you, we will schedule a free 20-minute Skype or Google Hangout video chat. There we'll discuss further how I can help you as your coach and what you want to get out of being a client.
You choose which level of service you want – Level 1, 2 or 3. Each level is explained in detail below and on the Coach Me page (coming soon).
Based on your level I will create a rough outline of our session(s).
Payment will be half up front (this is of course after the free 20-minute session and after the level is decided on) and half upon completion of the sessions.
From there we will schedule the first session and begin one-on-one coaching!
All sessions will be through Skype or Google Hangouts (whichever is easiest for you).
All prep work on my end is not considered part of the sessions.
Payment will be made through PayPal (other arrangements can be made on request).
Here is what you get with each service level:
Level 1
20-min introductory session (free)
1 1-hour session
Cost: $150 ($150 per session)
Level 2
20-min introductory session (free)
5 1-hour sessions
Copies of all project files
Cost: $500 ($100 per session)
Level 3
20-min introductory session (free)
10 1-hour sessions
Copies of all project files
Recorded copy of each session
Cost: $750 ($75 per session)
If you have enjoyed the content on my site and want to become a more creative, quicker and confident video editor then I believe one-on-one coaching with me is for you. When you are ready to take the next step fill out the form below and let's start making you a better video editor.