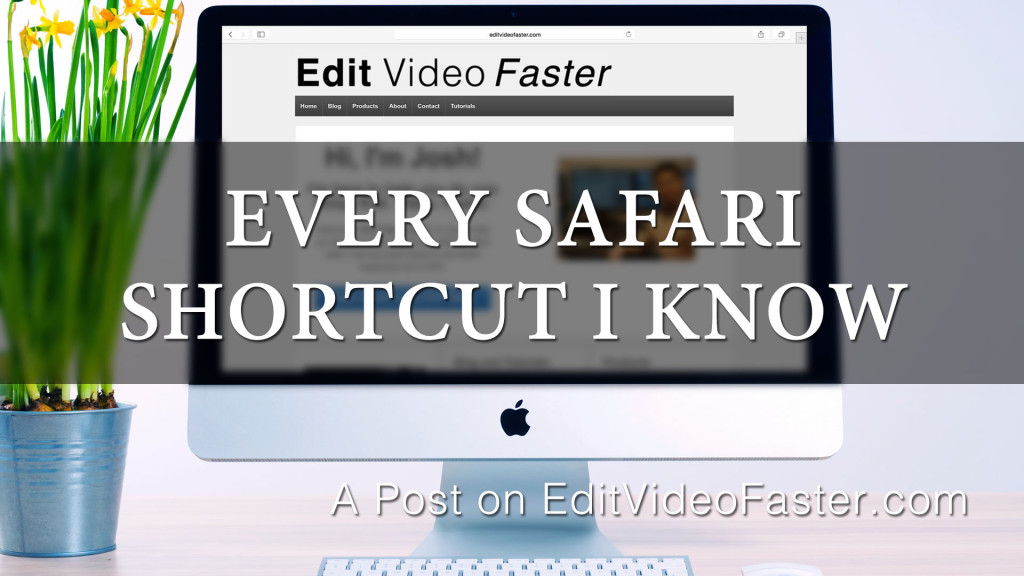 This article shares with you every Safari keyboard shortcut I know. I love keyboard shortcuts. Somewhere between 4% and 14% of all browser usage is through Safari. I'm in the small minority of the world that uses it as their main browser. However I absolutely love Safari's bookmarks bar and reading list features. I love how they both transfer over automatically to my iPhone too. So that's why we're here today.
I believe in learning shortcuts not only in your NLE but also in every program you use. I bet you probably spend as much time clicking around the web as you do editing (you're reading this right now, right??). So why not get faster with your browsing skills?
A lot of what I'm going to cover can be used in other browsers so you might find this post useful even if you don't use Safari. For example, Command+Q will quit pretty much every program on a Mac. Since Safari is mostly focused around Mac-users I'm just going to give the Mac shortcuts even though it's apparently available for PCs.
The shortcuts are broken up into three sections and I've bolded my favorite ones.
General Safari Keyboard Shortcuts
These are general keyboard shortcuts for Safari like creating new windows and tabs.
New Window – Cmd+N
New Tab – Cmd+T
Create a New Private Window (like an Incognito Window in Chrome) – Cmd+Shift+N
Close Tab – Cmd+W
Quit Safari – Cmd+Q
Minimize Safari – Cmd+M
Hide Safari – Cmd+H
Refresh/Reload Page – Cmd+R
Open Preferences – Cmd+, (comma)
Zoom In – Cmd+= (equals)
Zoom Out – Cmd+- (minus)
Open Link in New Tab – Cmd+Click (turn this on in the Tabs tab in Preferences)
Open Link in New Window – Cmd+Opt+Click
Movement Shortcuts
The following Safari keyboard shortcuts are for navigating between tabs and windows.
Cycle Through Tabs – Ctrl+Tab and Ctrl+Shift+Tab
Alternative Shortcut: Cycle Through Tabs – Cmd+Shift+Left/Right Arrows
Cycle Through Windows – Cmd+` (accent/tilde key)
Show All Tabs – Cmd+Shift+\
Go Back a Page – Cmd+[
Go Forward a Page – Cmd+]
Jump to Home Page – Cmd+Shift+H
Bookmarks, Reading List and Other Features
The following keyboard shortcuts are bookmarks, the reading list and other features in Safari.
Activate URL Bar – Cmd+L
Add Bookmark – Cmd+D
Show/Hide Bookmarks Bar – Cmd+Shift+B
Edit Bookmarks Bar – Cmd+Opt+B
Show/Hide Status Bar – Cmd+/
Open Sidebar (Access to Bookmarks, Reading List and Shared Links) – Cmd+Shift+L
Send Current Page to Reading List – Cmd+Shift+D
Show Top Sites – Cmd+Opt+1
Show History – Cmd+Opt+2
Open Bookmark #1, #2, …#9 – Cmd+1, 2, …9
Summing Up Every Safari Keyboard Shortcut
I hope you found this post on every Safari keyboard shortcut I know helpful. If you know any more of them leave 'em in the comments! Also, if you liked this kind of post and want me to make more of them for other software let me know in the comments as well!
Thanks as always for reading.
Recommended Additional Reading: