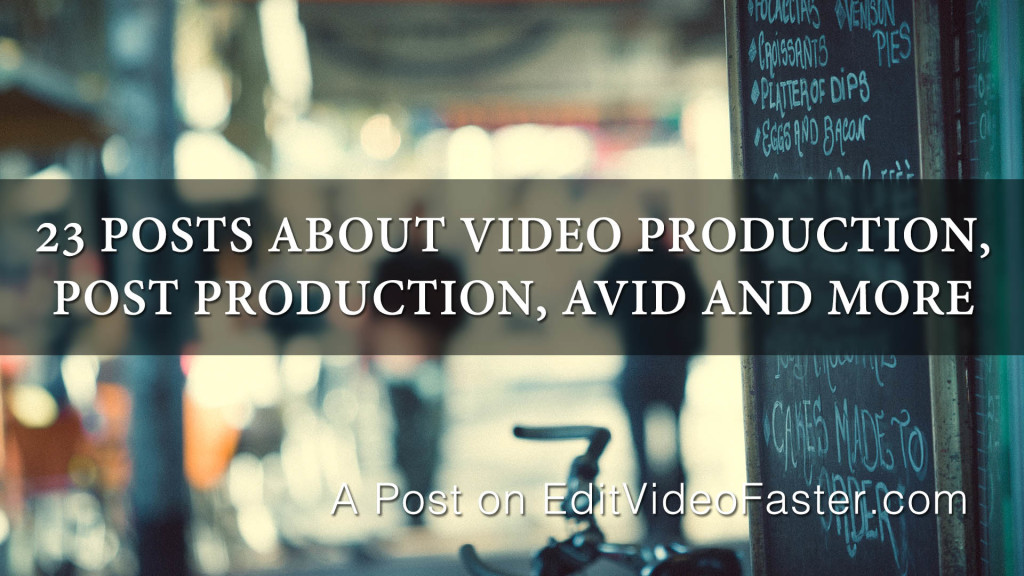 I've been writing for my friends over at ScreenLight for…well…a long time. It's been over two years and in the Internet world that's a really long time. Over that time I've been able to stockpile a bunch of writings that I want to share with you today. 23 of them to be exact.
The posts range from Media Composer tips to the Pomodoro Technique for time management to Apps for Editors and so much more. I've broken them up into a couple of categories. At the very top are a few of my favorites and ones I think you should definitely read.
My Favorite Posts
The Edit Bay – A Romanticized View of One Editor's Relationship With Four Walls
Video Editor is Not a Synonym for Motion Graphics Artist
Editor: The Amateur vs. The Professional
How to Setup a Video Company on a Realistic Budget
Avid Media Composer Posts
Customizing Your Avid Media Composer Timeline
Eight Avid Media Composer Default Settings You Must Change Today
Avid Quick Tip: Save Title Without Source
Avid Media Composer Quick Transitions
Avid Quick Tip: Opt/Alt + Z, X or C
Start Color Correcting with Avid Media Composer
Post Production Posts
The Worst Advice I've Ever Gotten About Video Post Production
Success Tips From Five Experienced Video Editors
Holiday Gifts for Video Editors
Tips to Keep Your Vacation from Becoming a Working Vacation
Simple Backup and Archiving Techniques for Video Editors
Essential Stock Elements for Video Editors (with Free Resources!)
Production Posts
Smartphone Uses and Apps for Any Phase of Video Production
Time Management Posts
How ScreenLight Saved a CEO's Presentation and My Weekend
Using the Pomodoro Technique as a Video Editor
Summing Up
I threw a lot at you today, I know. Take your time. Bookmark this page and work your way through them as you can. It's a holiday weekend for us in the States so I know you might have some spare time coming up. Get your reading on! And Happy Independence Day!
Alright. Thanks as always for reading, visiting and commenting. Speaking of commenting…Let me know what you think! Which one was your favorite post?? That's it for me. I'll see you next week!
PS: Avid Media Composer Editors… have you taken my Keyboard Shortcut Quiz yet?